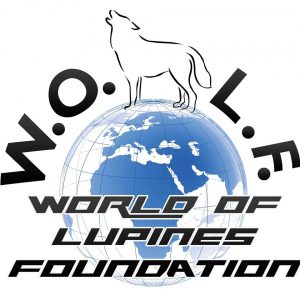 Thank you for your interest in registering your lupine-type dog under the Lupine Dog trademark with the World of Lupines Foundation (W.O.L.F.).
This enables you to prove & improve the quality of your wolf-alike/wolfdogs by providing a registration system for ethical breeders. This page will aim to guide you through the application process and highlight some of the benefits of being a W.O.L.F. owner/breeder. Animals who pass this application process will be eligible to use the trademarked name 'Lupine Dog' as long as they remain on our database.
  Benefits
If your dog passes assessment, it will be granted a W.O.L.F. pedigree certificate and unique registration number, You will also receive a Breeder 'Welcome Pack' which guides you through our services & explains how to register your puppies with us/advertise your stud with us.
You may use the trademarked name 'Lupine Dog' for dogs who carry a W.O.L.F. pedigree certificate/registration number. Note: This name remains our property and we reserve the right to remove permission for use if our Code of Ethics are being breached.
To register a dog you must also be a member of W.O.L.F. and have received your Breeder Membership number with Affix. You will be able to advertise your litters on our website and social media resources.
You will be able to use our W.O.L.F. logo in your advertising.
As soon as you know you would like to breed, you can (if you wish) contact our experts for advice regarding breeding such as stud selection, COI, whelping, critical socialisation or any advice regarding the breeding of Lupine Dogs.
You will be able to register Foundation Dog offspring as Lupine Dogs with W.O.L.F. provided at least the dam has full Lupine Dog or Foundation Dog registration and the sire has passed all the required health and DNA testing.
Puppy owners will receive a puppy pedigree certificate with registration number, puppy welcome pack and access to our advice services & online community.
Your dog will be eligible to enter the breed specific Lupine Dog classes for registered dogs at our confirmation shows.
Your dog's basic info can be shown on our online database as proof of their quality.
 Is my dog eligible?
The benefits of registration are open to wolf-alike & wolfdogs with a minimum of 3 generation pedigree/lineage.
Any natural dog breed/type may be eligible if they achieve 70% or more of our Lupine Dog developing breed standard.
A maximum hip score of B/B European FCI (OFA,BVA Equivalent) or PennHIP below 0.3
Degenerative Myelopathy genetic result Clear or Carrier (NOTE: CARRIER will only be eligible for puppy registration if bred with a CLEAR mate.
Pituitary Dwarfism (LHX3) or Oculoskeletal Dysplasia (OSD3) genetic result of Clear or Carrier (NOTE: CARRIER will only be eligible for puppy registration if bred with a CLEAR mate.
Eye examination by a Veterinary Ophthalmologist or DNA result where appropriate.
An Embark Genetic Test to include breed identification.
The Breeder must abide by our Code of Ethics
A pass result of the Lupine Dog Temperament Evaluation.
How to apply:  The Dog Assessment Process:
Firstly, before you can register a dog, you must be a breeder/stud owner member of W.O.L.F. with a registered Affix (Kennel Name).
Please note: your dog is registered on the W.O.L.F. Database in partnership with you and your PERSONAL W.O.L.F.  membership/affix – it cannot be transferred to another owner. New owners must apply for the dogs in their own W.O.L.F. MEMBERSHIP/AFFIX.
You must make yourself aware of our Breed Standard, Code of Ethics and our Constitution, all of which can be found on our website.
You must be an active member of W.O.L.F. CAUTION: breaches in our Codes of Ethics will be taken very seriously, and may result in removal of certification/registration.
With your veterinarian, fill in the form included in this pack.
You must provide verifiable evidence that your dog has passed the required health tests.
Send the completed form (below), together with copies of your dogs health certificates, the Lupine temperament evaluation and known 3-generation pedigree, back to us with a one-off £10.00 (GBP) per dog application fee.
Please Note: Although it can be done at home, ideally, we require the SOD1-DM, LHX3-PD and DNA swab to be done & posted by your veterinarian to verify a dog's identity.
 You may return scanned copies by email to info@world-of-lupines-foundation.com